Why Mattress Gallery Direct?
What to expect when shopping at our Tennessee mattress stores
Shopping for a new mattress can be a scary prospect. Here at Mattress Gallery Direct we understand what it feels like and have created a whole new mattress buying experience.
How do I decide what is right for me?

How do I know if I'm getting a good deal?

Where should I go to get an honest assessment of my needs?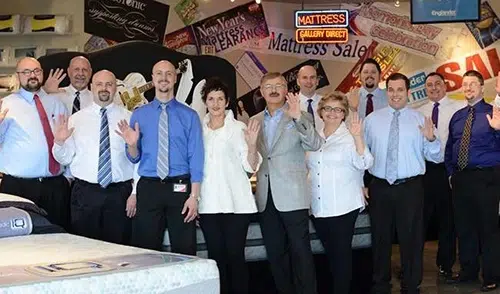 Mattress Gallery Direct mattress stores have been studying high quality mattresses and sleep for over 35 years. Our non-commission based associates, or Certified Bedding Specialists, will help you find the right mattress for your needs and budget. We will provide you with a knowledgeable factory trained representative to guide you through our clean and comfortable showroom. Our process is designed to target your needs and comfort preferences in a fun and informative manner. We promise to spend as much time as you need to find the perfect mattress for you.
Correct posture while sleeping is paramount to getting the rest you deserve. We have partnered with several local physicians and chiropractors to learn more about sleep health and spinal alignment. A proper mattress can help with ailments ranging from back and neck problems to sleep apnea and acid reflux. Mattress Gallery Direct believes you deserve expert advice when making such an important investment in your sleep health.
#1 Mattress Store Recommended by Chiropractors
Certified Bedding Specialists
Sleep Science Coach and Myoskeletal Alignment Therapist on staff
Family Owned and Operated for over 35 years!